Location of Fortress
Medvedgrad fortress is located on the southern hillside of Mount Medvednica, on a hill called Mali Plazur, 593 meters above sea level. Life on Medvednica can be traced back to prehistoric times. Cave Veternica was discovered in the second half of the last century and it is the most significant palaeolithic locality in Zagreb region. It can be classified as most important historic deposit of this type in the entire South-Eastern Europe.1 Apart from the discoveries of many vegetal and animal species which permanently resided in this area,2 many objects have also been discovered, proving the presence of man in this area from the dawn of human civilization.3 Medvedgrad's position gave it an excellent overview of the surrounding area. From there, it was possible to control territory all the way to Turopolje in the south, and it also had a perfect position for surveillance of transport routes between Slavonia and the West.
Origin of Name
The name of the fortress itself is connected to the term Medvednica, which is considered to have been derived from an old Slavic word medved (meaning "bear"), and cave bear obviously having been the most common animal in the area.
Medvedgrad Historians
The first known systematic historical overview of Medvedgrad, based on historical sources, was given by Ivan Kukuljević Sakcinski in his work entitled Događaji Medvedgrada, published in mid 19th century. Most of later explorers refer to his work. One of them is Ivan Tkalčić, who in 1889 wrote Spomenici Zagreba. In this work he uses most of the data from Kukuljević, primarily the theory about the architect and the end of construction in 1254. Bottom line, he considers Medvedgrad "fear and terror for all the neighbors, especially Gradec".4 In her work called Medvedgrad i njegovi gospodari, Nada Klaić gives a latest overview of this town's history, adding to some of the previous historians, but also offering some vital new conclusions. In her capital work she gives a summary of Medvedgrad's history and its rulers by referring to historical sources.
Theories of the Town's Origin
There are several theories of the origin of this town. Most accepted theory is that Medvedgrad was built after the Tartarian invasion in 1242; this theory is also supported by Ivan Kukuljević Sakcinski. According to this theory, the fortification was built from 1249 to 1254, by bishop Philip, on a royal ground, but using the diocese's funds. Its purpose was supposedly the defense of Kaptol and episcopal estates against the Tartarian peril. The theory is substantiated by the fact that the fortification had a major strategical significance, since Gradec had not yet been fortified, and fear of another Tartarian breakthrough was still present. The grant was issued to bishop Philip by king Bela IV, however the certificate was not preserved.5
Nada Klaić, however, supports another theory, according to which Medvedgrad was built by duke Koloman, to serve as a court and not as a fortress, before the Tartarian invasion. To substantiate this, instead of using written source (which is nonexistent), she uses the appearance of the town itself, claiming that: "if there was enough room, time and money to build a palace and a chapel in such a large complex (large in comparison to other towers of that time), it cannot be a castrum built ad hoc in fear of another invasion by the enemy".6 Furthermore, she considers episcopal construction of Medvedgrad to be a fabrication of Zagreb prebendaries in 14th century.7
She is refuted by Drago Miletić, who claims that Medvedgrad is not a court, but an aristocratic town or a burg. He holds on to thesis that Medvedgrad was built after the Tartarian breakthrough. It causes increased construction of aristocratic towns, and having taken in consideration that Bela IV, fleeing from Tatars, hid in Zagreb (Gradec), and also built a series of forts on the bank of the Danube, while the area of Slavonia is in lack of at least one secure stronghold that would provide a safe haven for the king in a case of another Tartarian breakthrough, it can be assumed that Bela IV started the construction of Medvedgrad. This thesis can also be verified by the fact that Philip, who was a king's trustee, gets appointed as the bishop of Zagreb, so he grants him his newly started fortress, and after the departure of Philip, who became the archbishop of Esztergom in 1262, Bela claims back his fort.8
Newest research in the field of art history, concerning study and mutual comparison of sculptural decorations (early Gothic capitals) in Spiš, Ócsa and Medvedgrad, has spread the area of patronage of duke Koloman and royal stonemasons workshop, and by another review of the papal document from 1252 it confirmed Nada Klaić's theory of the construction time, as well as Koloman's involvement in the construction. It also provides a confirmation of Vladimir Bedenko's thesis that the southern tower was built by Zagreb Kaptol, and only after the Tartarian breakthrough.9
Rulers
Medvedgrad had extremely many rulers. Through seven centuries, it had 107 masters. Due to unresolved proprietary issues it was often subject to conflicts between the diocese and secular authority, and its owners changed quite often.
Approximately ten years after it was owned by Zagreb bishop Philip, king Bela notices its strategical advantage and puts it under his jurisdiction. In return, he appointed Philip as the Archbishop of Esztergom and as his seal-bearer. He entrusted the rule over the town to Ban Stjepko Šubić. Medvedgrad has thus become a highly important stronghold in the efforts of defense of upper Slavonia.10 After the King claimed possession over Medvedgrad, it was ruled by bans for 11 years. In the years to follow, its rulers were alternately ecclesiastical and secular masters, from Zagreb bishops to the King himself. There were even confrontations regarding the ownership of the fort, thus Medvedgrad was considered in contemporary secret Kaptol letters as a cursed town (Maledictum Castrum Medved).11
Noted as most vicious of all Medvedgrad's owners were counts Celjski, who became owners of Medvedgrad in 1436. After their reign, the fortress was alternately owned by several aristocratic families (Gregorian, Erdődy, Zrinski…). A powerful earthquake in 1590 damaged the front walls, municipal chambers and chapel so badly that it was hardly inhabitable. After the collapse of the Zrinski-Frankopan conspiracy in 1671, Medvedgrad was taken over by the royal chamber, but already in sources from that time it is considered a ruin. Medvedgrad had a few more owners since then, and the last owners were the Kulmer barons, who owned it until the end of World War II.
Town's Problems
Medvedgrad was, in Croatian standards, too large and expensive town. It was the center of a small, mountainous, relatively poor seignory, which had difficulties covering the costs of its maintenance. Thus, finance and upkeep were posing enormous problems to Medvedgrad. Its owners have, through their castellans, throughout the entire history of the town, used unpopular methods in order to gain the necessary means for the upkeep, which constantly led to conflicts with the neighbors.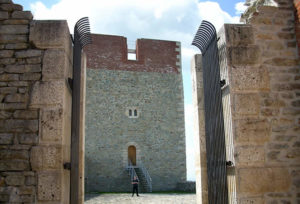 The fact that the noble families, at some point, owned Medvedgrad, shows that they had a requirement to buy another property, that was overpriced, because it was located in immediate vicinity of the administrative, political and ecclesiastical center of Slavonia. There is no record that Babonić, Celjski or Zrinski actually lived in Medvedgrad, they just used it for their crew.
Parts of the Fortification
Medvedgrad has an irregular ground plan that resembles of a trapeze with round corners. This does not surprise, taken the fact that it is located on a hill, thus its walls and architecture have been adjusted to the irregular shape of the terrain. Access to the town is from the mildest northern hillside, and in order to enter the inner, residential part of the town, one had to pass through another two well-guarded gates, having already passed the outer gates and a long infundibular corridor. It is surrounded by a double defensive wall, and between those two walls there is a suburbium, and the approach corridor in the western part. Inner part can be divided into three complexes: residential part in the north, sentry tower in the south, and a commodius yard in the middle.
The northern residential part contains almost all of Medvedgrad objects. In the utmost northern part there is an older sentry tower, that is today ruinous. It was fairly isolated from the other buildings that were situated south back in 13th and 14th century, and later it had some economical buildings attached to it. The western palace was subsequently upgraded, and has gradually been spreading towards the north. The chapel, dedicated to St. Phillip and Jacob, is located in the elevated eastern part of town, north of the palace. It has a regular octagonal ground plan with a shallowly convex apse in the western side. It was built out of bricks, whilst the angles were reinforced by angular carved stones from the outside. Other parts of the architectural plastic are also made of stone: portal, window rose, windows, jambs, semicapitals and vault. The chapel of St. Phillip and Jacob is the oldest and most notable chapel of an aristocratic town in all of Croatia, and it is also Croatia's most significant building of intermediate Romanic-Gothic style. In this part of the town, we can also find some objects of economical purpose, which are today rubbles. There is the town well near the chapel, quite well-preserved even today. In the southern part of the town is a newer sentry tower that dominates the entire stronghold. It was built with a quadratic base, and made out of bricks and stone.12
Conservation
The Croatian Conservation Institute started excavations and restoration of Medvedgrad fortress in 70's of 20th century; following items were found: a Bronze Age axe, Gothic signets, pottery fragments, glass and weapons. The chapel was discovered in 1981, and was since fully restored.13 In 1992, a spot was chosen to raise a monument to honor the victims of war, thus the Altar of Fatherland, a work by sculptor Kuzma Kovačić, was installed under the southern tower, outside the town.
Yet it is unknown who and when erected it
Through history it changed 107 owners
Under its walls battle never took place.
In secret canonic letters it is called the Damned city (Maledictum Castrum Medved)
Dobronić, L. 2003. Stari vijenac sela oko Zagreba. Zagreb, Muzej grada Zagreba
Goss, V. P., Vicelja, M. 2006. Some Observations on the Chapel at Medvedgrad, Starohrvatska prosvjeta III/33, 165-186
Goss, V. P. 2007. The Battle of Cathedrals: or how Zagreb almost Became an Archbishopric in the 13th Century, Medioevo: L'Europa delle Cattedrali, 146-154
Goss, V. P., Jukić, V. 2007. Medvedgrad-Ócsa-Spiš: Some Stylistic Considerations, Starohrvatska prosvjeta III/34, 295-307
Goss, V. P. 2008. Renesansa 12. stoljeća i Hrvatska, Renesansa i renesanse u umjetnosti Hrvatske, IPU, Zagreb, 417-426
Klaić, N. 1987. Medvedgrad i njegovi gospodari, Zagreb, Globus
Miletić, D., Valjato-Fabris M. 1987. Kapela sv. Filipa i Jakova na Medvedgradu, Zagreb, Mala biblioteka godišnjaka zaštite spomenika kulture Hrvatske 12/1986
Miletić, D. 2001. O obnovi Medvedgrada, Peristil 44, 131-157
1 Klaić, N. 1987. Medvedgrad i njegovi gospodari: 16
2 It is interesting that "in the quaternary fauns remains of cave Veternica nearly 75% of all findings indicate to the rest of Cave Bear (Ursus spelaeus), which very clearly indicates to the origin of mountain name, as well as the town alone.
3 There has been found various tools, bone retouchers, leave with bronze subjects (one has been found 1959 in immediate vicinity of Medvedgrada), bronze axes, fragments of pipkins, different subjects made of iron…
4 Klaić 1987: 13
5 About her existence we find out indirectly, from the document instituted in Perugga 20 February 1252. in which pope Inocent IV. confirms the Philip property "which he belongs to, and now calls the bishop's fortress" -Miletić, D. 2001. O obnovi Medvedgrada, Peristil 44, 131-150
6 Miletić, D. 2001: 131-150
7 Klaić, N. 1987: 11
8 Miletić, D., Valjato-Fabris, M. 1987:41-43
9 Goss, V. P. Jukić, V., Medvedgrad – Ócsa – Spiš Some Stylistic Considerations, Starohrvatska prosvjeta III/34 (2007), 295 – 305, posebno str. 302
10 Term Upper Slavonia approximately covers the area of the present north Croatia, along some fewer geographical differences, but in any case it includes region on which Medvedgrad is located.
11 Miletić, D. 2001: 131 – 150
12It is the tower which has been built by bishop Philip after Tatarian invasion.
13 Miletić, D., Valjato-Fabris, M. 1987:7