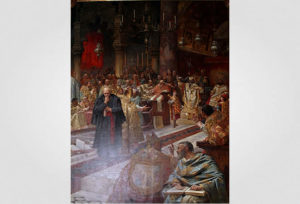 The first council in 925 was held in an attempt to clarify the issue of the jurisdiction of Salona-Split archdiocese. Pope John X sent his emissaries John and Leon to Split, where they summoned a council. By arrival, they presented letters from the Pope to archbishop of Split, in which the Pope criticisms the Dalmatian episcopate for being subject to the Patriarch of Constantinople for so many years, and also for performing teachings in Slavenic language. The council consisted of the archbishop of Split John, bishop of Zadar Formin, bishop of Nin (i.e. bishop of Croatia) Gregory and the rest of Dalmatian bishops.The council was also attended by the Croatian king Tomislav and the Duke of Hum Mihovil, but allegedly they were not involved in any decisioning.
The final council's decision was that all bishops, including Croatian, must succumb under the jurisdiction of the Metropolitan of Split. Croatian bishop was not content with this decision, so he appealed to the Pope. As a motive, he enclosed letters of Pope John VIII in which it is stated that Croatian bishop Theodosius is subject only to Rome.
Pope took two years to think over these decisions. He finally decided to summon another council in 928 to resolve this matter. He sent bishop Madalbert as his emissary to the council. It was then decided that the Church of St. Domnius had primacy over all the dioceses in Croatia and Dalmatia. All dioceses that existed of old were allowed to continue to exist. The diocese of Nin was thus abolished, since it wasn't among the older ones, and Gregory was forced to choose between Sisak, Duvanj, or Skradin. Bishop Gregory was dissatisfied by these decisions, but had no power over them.1
Tomislav's heirs
Tomislav was succeeded in 928 by Trpimir II, who was his brother, and also a grandson of Croatian duke of the same name, who was the founder of the dynasty.2 In his time Crotia negotiated a peace treaty with the Bulgarians, through intervention of a holy man named Martin from Frankia. After Trpimir II, his son Krešimir I ruled Croatia until 945. We do not know much about these two rulers, but based on some sources they have maintained Croatia on the same level and strength, to which Tomislav had risen it before them. Krešimir was succeeded by Miroslav, who ruled from 945 to 949, when he was murdered in an overturn led by Ban Pribina. He was the first known Croatian ban who probably ruled over a duchy ("banovina") mentioned by emperor Constantine VII Porphyrogenitus; the duchy consisted of counties of Lika, Gacka and Krbava. Though reasons for this revolt remain unknown, it is obvious that his goal was not to overthrow the dynasty, since he appointed Miroslav's younger brother Michael Krešimir II to the throne. It is important to mention that Ban Pribina was the first of a whole line of powerful bans who will be kings' co rulers all until the dynasty's extinction.3
During the Civil war, with Croatia being weakened, Neretvans seized an opportunity and took over Brač and Hvar, and also Serbian duke Časlav Klonimirović did a similar thing, by expanding his authority in Bosnia. F. Šišić states that Byzantine Dalmatia returned under imperial government and thus interrupted relations to Croatian ruler, which meant that the only thing left that binded Croatia and Dalmatia was that Dalmatia still had to pay taxes as per order by former emperor Basil. Thus, the power of Croatia weakened around the middle of the X century, both in land and at sea. However, following the death of Serbian duke Časlav, Michael Krešimir managed to reclaim Bosnia, and also to restore good relations to Dalmatian cities. Emperor Constantine states that in the middle of the X century Croatia spread from the confluence of Cetina in south, to Histrian borders and city of Labin by the sea, across the territory of former diocese of Sisak in the north, and all the way to Lower Bosnia in the east.4
The wife of king Michael Krešimir II, queen Jelena, belonged to the patrician House of Madijevac in Zadar, and on one occasion the King himself, upon arrival to Zadar, endowed a Benedictine monastery of St. Krševan by granting them the village of Diklo near Zadar.5 Queen Jelena, being both pious and wealthy, ordered a church to be built on an isle in Solin. She was buried in that same church, and it later served as a mausoleum of Croatian kings and queens.6 Michael Krešimir II, who renewed Croatian country after its brief weakening, died in 969, and already in 970 his son Stjepan Držislav is mentioned as a king.
Other articles from the series: "The Trpimirović Dynasty of Croatian Rulers"
In the time of Tomislav's heirs, precisely during the reign of Michael Krešimir II, we find first known Croatian Ban Pribina, who probably ruled over a duchy ("banovina") consisted of counties of Lika, Gacka and Krbava.
Ban Pribina killed Croatian ruler Miroslav, but reasons for this revolt remain unknown, it is obvious that his goal was not to overthrow the dinasty, since he appointed Miroslav's younger brother Michael Krešimir II to the throne.
Neven BUDAK, Prva stoljeća Hrvatske, Zagreb: Hrvatska sveučilišna naklada, 1994.
Ivo GOLDSTEIN, Hrvatski rani srednji vijek, Zagreb: Novi Liber – Zavod za hrvatsku povijest FF-a, 1995.
Stjepan GUNJAČA, Ispravci i dopune, Book II., Zagreb: Školska knjiga, 1973 – 1975.
Vjekoslav KLAIĆ, Povijest Hrvata, Book I. Zagreb: Matica Hrvatska, 1972.
Lujo MARGETIĆ, Hrvatska država u doba narodnih vladara, u: SUPIČIĆ (ur.), Srednji vijek (VII – XII. stoljeće)…, str. 197-214.
Ferdo ŠIŠIĆ, Povijest Hrvata u vrijeme narodnih vladara, Zagreb: Nakladni zavod Matice hrvatske, 1925.
1 Vjekoslav. KLAIĆ, Povijest Hrvata, vol. 1, Zagreb: Matica hrvatska, 1972, p. 108-115; Stjepan GUNJAČA, Ispravci i dopune, vol. II, Zagreb: Školska knjiga, 1973.-1975, p. 177-216; Lujo MARGETIĆ, Hrvatska država u doba narodnih vladara, u: Ivan SUPIČIĆ (ed.), Srednji vijek (VII – XII. stoljeće), Rano doba hrvatske kulture, vol. I, u: same (ed.) Hrvatska i Europa: kultura, znanost i umjetnost, Zagreb: Hrvatska akademija znanosti i umjetnosti, 1997, p. 204
2 Ferdo ŠIŠIĆ, Povijest Hrvata u vrijeme narodnih vladara, Zagreb: Nakladni zavod Matice hrvatske, 1925, p. 431
3 Neven BUDAK, Prva stoljeća Hrvatske, Hrvatska sveučilišna naklada, 1994, p. 33
4 Ferdo ŠIŠIĆ, Povijest Hrvata u vrijeme narodnih vladara…, p. 446
5 Ferdo ŠIŠIĆ, Povijest Hrvata u vrijeme narodnih vladara…, p. 446
6 Ivo GOLDSTEIN, Hrvatski rani srednji vijek, Zagreb: Novi liber – Zavod za hrvatsku povijest FF-a, 1995, p. 314