Obsession with Death
The Middle Ages was a time of horrid epidemics that had killed a great number of people. One of the biggest ones was the plague epidemic in 1348. which had killed two thirds of Europe's population. People are often starting to think about imminence of death and briefness of life. The perception of death as the grand reaper that scythes people's lives dates from that time. Different ideas of death are formed, which are carried over into art form. Out of a rich iconography of death, we're outshining one example, the picturesque Dance of death.
Dance of Death
In art portraits of this theme, representatives of both clergy and secular class appear, such as a pope, a cardinal, a bishop, a pastor, a clergyman, a minister, an emperor, a king, a duke, a count, a knight, a doctor, a salesman, a peasant, a child… Paired with them are the dead who, holding their hands, take them to their death. The dead are shown as skeletons or as rotten corpses.1 They are carrying spears, bows and arrows, sometimes even graveyard tools. They are often carrying musical instruments, whit which they play the tune to their mock dance of the living. The characters usually appear by hierarchical importance, and often there are lines, under or above the portrait, which death speaks to it's victims. They are written in a threatening tone, even though they sometimes have a sarcastic note. The lines that show things that people say to death, are usually full of despair and begs for mercy. But, death is stern, before her everyone is the same, she doesn't care for the social status, sex or age. There are different variations on this theme, sometimes the scene is shown before a crucifix, sometimes a preacher is leading a procession (explaining it's meaning), and sometimes it is combined with other death themes.2
Although, the origin of this theme is not yet known, one of the literary templates that antecede was Vado Mori.3 It's a 13th century poem of a French origin, in which representatives of different social classes complain about the inevitable presence of death. Following it were the lines of eleven dying men, a king, a pope, a bishop, a knight, a physicist, a man of logic, a young man, an old man, a poor man and a lunatic. In the newer texts of the genre, there is no prologue, but the number of characters had increased.4
According to other opinions, medieval poetry about the immanence of death, preachings of monks (Franciscans and Dominicans), mysteries5 and superstitions6 have influenced the creation of Dance of death.
The theme became very popular in the 15th century, and what made it spread were the graphical sheets, by which it's iconography expanded.
Examples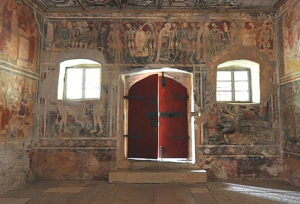 Dance of death appears on dozens of portraits in different regions of Europe. It is most often found in Central Europe (France, Germany, Switzerland, northern Italy, Slovenia, Croatia). We find it painted or engraved on the outside walls of convents, family tombs, morgues or in churches.7 With these examples of Dance of death in fresco technique, we also find it presented in manuscripts.
The theme appears for the first time in France, at Cimetière des Innocents in Paris, 1424. The portrait is, sadly, ruined, but it is preserved in a reproduction, in a book dating from 1485. More examples of this theme have been found in France, Germany, Italy, Austria, Great Britain, Sweden, Switzerland…
A very well preserved example of Dance of death is found in the church of st. Mary at Škrilinah (sv. Marija na Škrilinah), in Beram, Istria. The church has been painted by Vincent from Kastav with assistants in 1474. Among the many fresco paintings found in it, there is also a Dance of death, placed above the entrance door. It was painted by Vincent's assistant, to whom it is referred to as "the Master of Dance of death".8
There are many iconographic themes by which the medieval man had shown himself the presence and certance of death
There are some seventy portraits of this theme preserved in Europe
The origin of this theme is still uncertain
ANĐELKO BADURINA (ur.), Leksikon ikonografije, liturgike i simbolike zapadnog kršćanstva, Zagreb, 2006. [1979.]: Ples mrtvaca (Dance of Death) [Branko Fučić]
Enciklopedija hrvatske umjetnosti, sv. br. 1., Zagreb 1995.: Beram
JAMES HALL, Rječnik tema i simbola u umjetnosti, Zagreb, 1998. [1974.]: Posljednji sud (JAMES HALL, Dictionary of subjects and symbols in art: The Last Judgment)
www.lamortdanslart.com: The dance of Death (3.4.2010.)
1 ANĐELKO BADURINA (ed.), Leksikon ikonografije, liturgike i simbolike zapadnog kršćanstva, Zagreb, 2006. [1979.], 569.
2 ANĐELKO BADURINA (note no. 1), 570.
3 www.lamortdanslart.com (April 3 2010)
4 Compare www.lamortdanslart.com (April 3 2010)
5 Medieval theater with religions themes
6 ANĐELKO BADURINA (note no. 1), 570.
7 www.lamortdanslart.com (April 3 2010)
8 Enciklopedija hrvatske umjetnosti, sv. br. 1., Zagreb 1995.: Beram, 79. – 80.