Posts tagged with "murals"
Jul 17 2010
Categories: Painting
0
Hagia Sophia holds preserved one of the largest corpuses of mosaics imaging Byzantine emperors. They are sacramential mosaics, in which the emperors are displayed bearing gifts or kneeling before the Christ or Virgin Mary. Residing on the walls of the church, where figures of saints are usually displayed, the emperors, shown with aureolas on their heads, are also represented as holy figures.
Mar 13 2010
Categories: Painting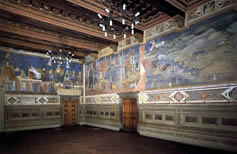 6
One of the most interesting fresco cycles of the late Middle Ages was painted in the Town Hall of city of Siena. It stands out with its theme representing good and bad city government.